Darren Palmer's pick of the hottest kitchen trends for 2016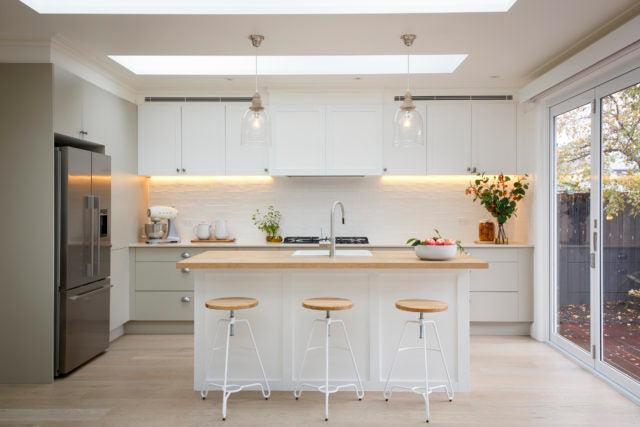 As a barometer of interior trends for the forthcoming year, it doesn't get much more instructive than the recent Milan Furniture Fair, or Salone Del Mobile, held in April this year. And when it comes to kitchen design trends, EuroCucina (held as part of the fair), is considered something of a savvy style predictor. Read on for Darren Palmer's top trend picks from the event and see them illustrated with some fabulous Freedom Kitchens.
Colour pops
Gone are the days of the all-white kitchen with pops of colour the order of the day. "Colour is back in a big way. You can use it in your kitchen in a variety of ways, from a pop of colour in a bank of cabinetry or splashback, through to layering different shades of one colour across various surfaces," says Darren who notes blue and teal were the dominant colour tones at EuroCucina this year with red, raspberry, yellow and orange featured too.
"Soft, muted pastels appeared too – offering an injection of lighter colour to an all-white kitchen. They're also useful for breaking up block colours to add a sense of balance," says Darren.
The trick is in practicing some restraint by combining just a splash of colour with an otherwise neutral palette. "I love balancing a splash of colour with natural marble-inspired benchtops, coupled with white-toned cabinetry and integrated appliances. This creates a thoughtful and modern take on colour in the kitchen," says Darren.
Back to nature
"This trend focuses on a very simple and natural palette, stone or timber the hero in the kitchen space. At Eurocucina these looks were taken to new heights with large swatches being used in both cabinetry and benchtops," says Darren who also sees timber as a great way to break up classic monochrome kitchen schemes of grey, white and black.
And as for specific timber shades, oak, warm walnut and cool grey tones are very on trend. "I love this trend, as timber adds instant warmth and texture to any kitchen space," says Darren.
Metallics
One of our favourite trends here at Interiors Addict, mainly for its ability to glam-up a space, metallic hues have finally found their way into kitchen design with gold, rose gold, brass and copper all featuring heavily at this year's Eurocucina. "Metallics can add a heightened sense of glamour and warmth to your kitchen and they're taking centre stage being featuring in sinks, taps and handles as well as being used as a treatment for door panels, benchtops, splashbacks and shelving. It's also a good idea to add an accent through lighting, small appliances or décor to complete the look," says Darren.
Industrial
It's turning out to be a pretty enduring trend and the industrial look once again featured heavily at this year's Eurocucina – exposed brick, piping and metal were showcased alongside concrete and timber. "Thanks to the practicality and visual appeal of the industrial look, it works perfectly to set up your kitchen as the centrepiece. From here, you're free to expand the style throughout the rest of your home. It's also a look that suits those who want to create an eclectic kitchen space with a variety of different finishes, textures and features," says Darren.
---